(Promoted by Colorado Pols)
Brian Watson, candidate for Treasurer of Colorado, is kind of a jerk. He demonstrated that recently in a Club 20 debate with his Democratic opponent, Dave Young,  captured on video by Colorado Education Association. Dave called out Brian Watson for owing nearly a million dollars in unpaid taxes and loans for seven years: "How can you manage our state's finances if you cannot manage your own?," Dave Young asked.
Watson replied, " I'm so glad you asked that question. Because while you were a junior high math teacher, collecting a check from the government, which you have done your entire career, <snip>, we job creators were on the front line."
Watson is a "job creator"? He's a real estate developer, and pledges that he won't take a salary if elected to the Legislature. (Hint: he plans to moonlight at Northstar Commercial Partners, the company he founded, which owns buildings all over Colorado. Watson doesn't need a treasurer's $68K a year salary )
Watson, like Trump, loves debt, and spins his deadbeat history as a net positive:
I've restructured complex debt….I'm battle – tested
But since Watson has a history of unpaid taxes and liens, Watson has been a net drain on the economy. He finally paid off his business debts right before the Republican primary in 2012. The contractors who had to wait for payment, or had to write off debts, were probably unimpressed by Watson's "battle testing".
Can you say, "Conflict of interest"?
As Treasurer, Watson would be making decisions and helping to make policy that would directly impact his company's bottom line. For example, included in Northstar's portfolio of buildings are several renting to charter schools in Colorado. As Treasurer, Watson's business stands to profit by renting to charter schools, which are generally taxpayer-supported public schools, while he continues to work at his real estate investment company – just like the current Treasurer, Walker Stapleton, who continued to collect a $150,000 salary consulting  at Sonomawest , / Stapleton Acquisitions), all while "moonlighting" as Colorado's Treasurer.
At least, if elected, Watson could take a lunch break at one of the buildings his company owns near the Capitol.
For a longer , higher quality video of the two Treasurer candidates debating, see the Aaron Harber show, Parts 1 and 2.   I've highlighted their statements about PERA below.
Treasurer Candidates: How did PERA get into this fix, and How to fix PERA
Dave Young  analyzes the current PERA funding shortfall by breaking down the "stupid decision" to borrow money to fund early retirements: (the deal signed off on by then-Treasurer Mike Coffman): "If the amount of money going into PERA is less than the amount going out, then that's not sustainable, said Young in the Harber segment  (about 7:00)."  According to Young, PERA had been fully funded in 2000; then when a Republican governor, Owens, a Republican legislature, and a Republican Treasurer, Coffman, decided to downsize state  government, PERA's value catapulted from 105% to its current 58%. See graph from page 3 of the 2010 Legislative Staff Memorandum on PERA funding, showing downturn in value under Treasurer Mike Coffman's "leadership":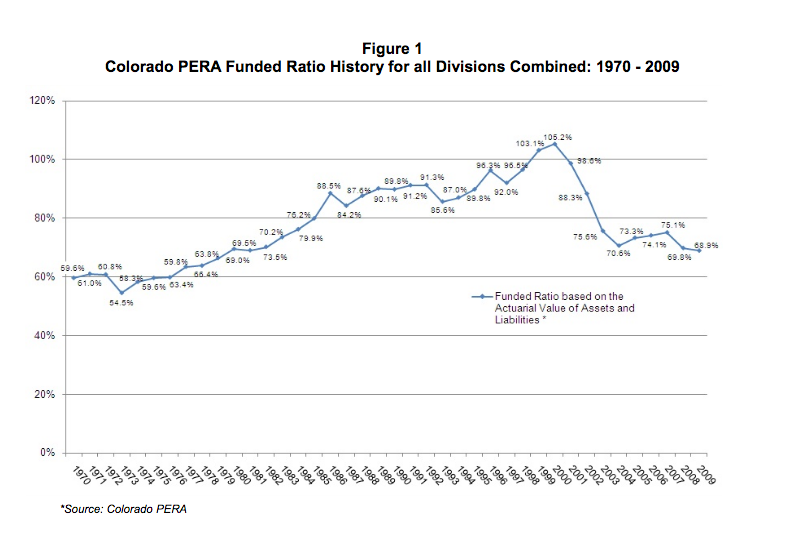 Young advocates "fixing PERA" by finding a sustainable path to full funding, and a defined benefit plan.
Brian Watson at 21:28: "If you think schoolteachers are underpaid, fix PERA. 22% of salaries go to PERA. (my comment: this is untrue – average employer contribution is ~10%. Employees match this, but money taken out of my earnings is not a "salary", Mr. Treasurer wannabe ). Watson also wants to "fix PERA" by postponing retirement for years.
CEA's Amie Baca – Ohlert responded to Watson's proposals:
"Raising the retirement age and freezing or lowering the cost-of-living allowances would disincentivize prospective teachers from joining the workforce, she said. And it would force additional financial burdens on current teachers, many of whom work more than one job and cannot afford to live in the communities in which they teach.
In all of his interviews and public appearances, Watson demonstrates  appalling ignorance, deliberate misrepresentation, and meanness of spirit. If Coloradans want another treasurer that treats the office like a part-time job, keeping his real estate business as his top priority, as Stapleton did, then by all means vote for Brian Watson.
But if Coloradans want a dedicated public servant as Treasurer, with budget acumen and public sector experience, reasonable voters  should vote for Dave Young.
Much better to have a math teacher, experienced with legislative budgets from years as chair of the Appropriations Committee and member of the Joint Budget Committee, rather than a freeloading real estate millionaire who won't pay his contractors or his taxes. We've had enough of that kind of "leadership" – in Colorado and in the country.