(Promoted by Colorado Pols)
You remember Creepy Uncle Sam, who symbolized all that was unknown and scary about the Affordable Care Act. Sam had a fun few weeks to try to frighten consumers out of signing up on the health exchanges. Uncle Sam was everywhere – on your favorite cable news shows and web pages. Then, as suddenly as he had popped in, he disappeared, after the ACA signup deadline was over.
Generation Opportunity, or GenOpp, the organization which sponsored the Uncle Sam ads, is still going strong, and working harder than ever to lure young people away from the Democratic fold. GenOpp's media arm is called FreetheFuture, and it is mostly funded by the Koch brothers, via GenOpp, through the Freedom Partners LLC, which has funneled five million dollars into it during 2013, according to an expose by Viveca Novak on OpenSecrets.org.
​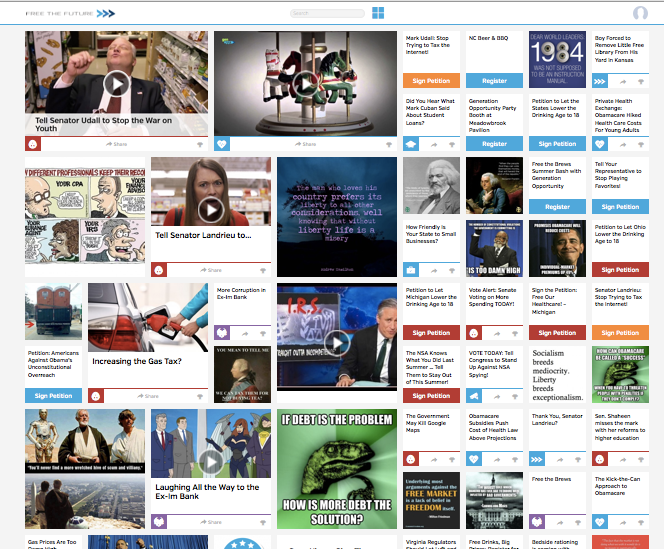 ---
Free the Future, or FTF in textspeak, is a smart, funny, visually appealing, socially media savvy compilation of short articles, cute graphics and cartoons, Facebook-style web memes, all of which carry a conservative talking point: (Obamacare is not to be trusted. Obama is an overreaching tyrant, government is bad)
FTF mixes in real issues: student loan debt, gas prices, unemployment, NSA spying – in a Facebook, Google +, and Instagram-friendly montage designed to appeal to people with teeny little smartphone screens , miniscule attention spans, and calluses on their texting fingers. Although I searched, I could find nothing on these pages with other issues of concern to the 18-34 crowd: contraception, the environment, climate change, equality in marriage, gun violence, racism and police profiling, raising the minimum wage. Only ads, posters and graphics which promote cynicism and powerlessness are included.
So far, according to Novak's reporting, GenOpp has been able to avoid real-time transparency about its donors by being just an "issue committee". However, now, with political ads specifically targeting candidates in elections, as with Senator Udall and Senator Landrieu, GenOpp has stepped over that line. This is what IRS oversight was designed to prevent – blatant electioneering by anonymous donors with unlimited money. And it's happening, right now, on your favorite cable stations and web pages.
Here is an FTF ad you've probably seen in the last few weeks. Titled "Spending Spree," it shows a young woman pushing a Congressman, presumably Mark Udall, around a grocery store. Like a bratty child, he wants everything he's not supposed to have. It speaks to the real problems young people have: unemployment, falling wages, rising prices, and insecurity about the economy, and blames a Democrat – Senator Mark Udall.
Narrator: Washington politicians, like Mark Udall, have a spending problem. They're wasting money they don't have…
."I told you we can't afford that," complains the young shopper pushing the cart.
Narrator: and sticking our generation with the bill. The bill at the checkstand: $400,000.
The "Udall" actor: "Ahh…she's got it."
"Pay it yourself," sneers the miffed millenial.
End Narration: Tell Mark Udall – that's our money. Stop wasting it.
These ads are very smart. As Marshall Mcluhan said so long ago, the medium is the message, and the message is: You're young, you're cool, you're tech-savvy, and the old people just don't get you and are greedily sucking up your future. All politicians are crooked, and all government is bad. The best way to get revenge is to not vote. Cynical apathy is the way to go.
I'd like to think that our young people are smarter, and that slick marketing, dazzling graphics, and flashy social media memes won't be enough to bend the vote the way the Koch brothers would like.