(Promoted by Colorado Pols)
Republican and Democratic politicians alike were denounced by the 50 activists rallying at Bessemer Park in Pueblo on April 5, 2014, as part of a national Day of Action on Immigration. Barack Obama has deported more immigrants than any other President; Cory Gardner, Scott Tipton, and Mike Coffman have all voted to defund programs to make it easier for undocumented "Dreamers" to stay in the USA, and have repeatedly voted against comprehensive immigration reform. Ken Buck and Tom Tancredo were also called out for their unrelenting history of opposition to not only immigration, but immigrants. All of the Republicans have opposed a path to citizenship, calling it "amnesty".
In Denver, activists rallied in Civic Center Park and on the 16th St. Mall (below):
(Photo by Ray Rodriguez)
Elsewhere in Colorado, Summit County, and Durango, saw rallies,waves of protests, support for youth and families facing deportation proceedings. On Saturday, the call across Colorado and the United States was "Not one More Deportation!"
Under the Obama Presidency, more than two million people have been deported, most of them for low-level crimes, such as traffic offenses. Sunday talk shows debated whether or not Obama really is the "Deporter in Chief" On Steve Kornacki's show, "UP", the focus was on how Obama's high deportation numbers may affect Latino voter turnout in upcoming elections.
Victoria De Francesca-Soto posited that the immigration numbers may be exaggerated statistically, as now everyone who is caught near the border, but turned back immediately, is counted in deportation numbers. De Francesca also pointed out that immigration reform may not necessarily be the top issue among all Latino voters; for most, jobs and health care reform are higher priorities.
Yet, Gabriella Domenzain, another guest on Kornacki's show, said. "Four out of ten Latino voters have a personal relationship with someone who is being deported, and that changes you." People point to the unequal enforcement of immigration law – Canadian citizen Justin Bieber was convicted of driving drunk; yet he is not being deported, and, every year 400,000 Latinos, with similar or lesser convictions, are formally deported, for a total of two million under Obama.
In Pueblo, the focus was firmly on deportation and the need to stop tearing families apart. Here in the Home of Heroes, several men, including a Marine in full dress uniform, (my photo, left) protested the ongoing deportation of veterans.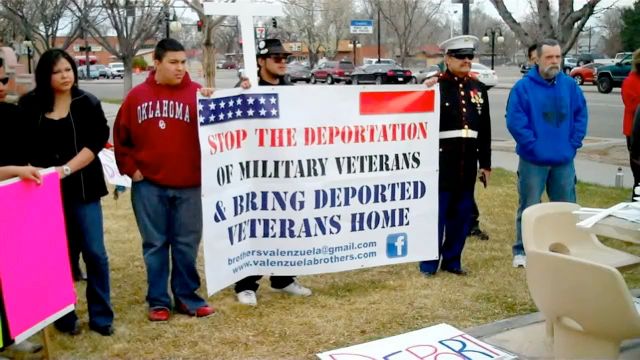 After completing one or more tours of duty, and returnng to civilian life, noncitizen veterans who commit felonies, often victimless crimes such as drug possession, are being deported.
Thousands of veterans have been deported in recent years, according to the Washington Post. Military spouses are also subject to deportation, as House Republicans want to roll back protections allowing spouses of serving military to "parole in place".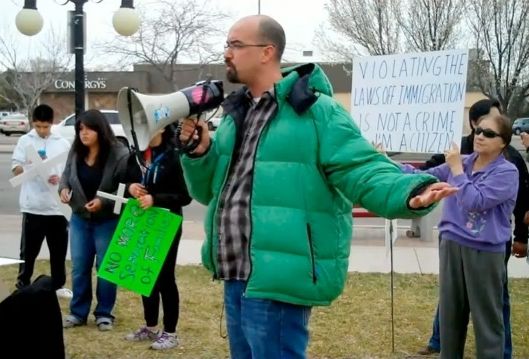 Brendan Greene, (left) is the membership and campaign director of Colorado Immigration Reform Coalition, which sponsored the rally. Greene said, "There's no better way to put your money where your mouth is, and reform the system, than to lead the way by example." He called out Obama and Tipton, in particular, saying, "They have the power to move reform."
Greene continued, "We really think that it's time for President Obama to do what's right. He has been the president who has deported more people than any other president, and we don't believe that is the way to pass immigration reform. If you want to pass immigration reform, it's important to take the first step, and do what is within your (executive) power, and pass deferred action for all, to the eleven million people who could qualify for that."
Q: Do you have any comments on Mike Coffman and Cory Gardner, supposedly tacking their way to the center on immigration?
Greene: Again, actions speak louder than words, and in this case, they have said that they're invested in a solution. But they both actually voted to defund the deferred action program, and that's one of the most significant advancements towards fixing the system that we've seen…. if they really were vested in solutions, they'd be supporting the deferred action program.
After the rally, Yesenia Beascochea called on the participants to participate in a meeting to talk about priorities and strategies.
If Democrats want Latino voters to come out and vote for Democrats in 2014 and 2016, they will need to "walk the talk" on immigration better than they have. As for Republicans, "Just Say No" didn't work in the War on Drugs, it didn't work to prevent teen pregnancy, and it definitely won't work for immigration reform.
Video from Pueblo's Day of Action.