(The rush to save face – Promoted by Colorado Pols)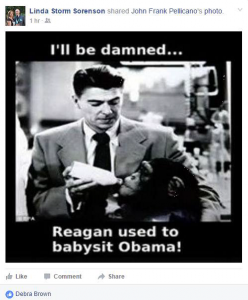 UPDATE: Sorenson apologized today "being insensitive and not thinking of others in the heat of the moment" when she shared a Facebook meme comparing Obama to a Chimp, but she also complained that "the left is only about tolerance when they are demanding that YOU tolerate their latest nutty idea, and if you don't like it, then you're automatically a 'hater,' a 'bigot,' and a 'racist.'"
"I admit to saying to the blogger that; 'I don't care if you're offended,' however I do care very much if anyone else was offended," wrote Sorenson in an apology first reported by the Colorado Statesman's Ernest Luning. "Please forgive me for being insensitive and not thinking of others in the heat of the moment."
The blogger she references is yours truly, and she actually factually told me, "I don't care if people are offended." (Listen to the recording here.) She did not say, as she claims in her apology,  "I don't care if you're offended."
Of course, I take Sorenson at her word that she's sorry she offended others, not just me. But she told me she didn't care if people were offended, as in all people. She should correct the error, as should any reporters citing her apology,
Here's the full text of Sorenson's apology:
It appears that someone I didn't know tagged me in a Facebook post with a silly comparison to Barack Obama. I confess to 'liking' a tired old Facebook meme, and I apologize for my bad judgment.

When confronted on the spot by a liberal blogger, I was busy and didn't realize the game that was being played—the 'gotcha' game. The 'gotcha' game is fun only for those who intend to ruin a person's name, reputation, and position of leadership. For anyone else who has been through the cycle, they can tell you how ridiculous and nasty the game is. From one moment to the next, I'm national news.

The vitriol and hatred that has been directed at me has been nothing short of stunning. But anyone paying attention these days knows that the left is only about tolerance when they are demanding that YOU tolerate their latest nutty idea, and if you don't like it, then you're automatically a 'hater,' a 'bigot,' and a 'racist.'

I admit to saying to the blogger that; "I don't care if you're offended," however I do care very much if anyone else was offended. Please forgive me for being insensitive and not thinking of others in the heat of the moment.

I believe one of the greatest things about America is that we are to be judged on the content of our character not the color of our skin.
——–
In the wake of a meeting yesterday with Delta Country Republican Chair Linda Sorenson, who shared a Facebook meme comparing Obama to a Chimp, Colorado GOP Chairman Steve House promised racial-sensitivity training for party leaders, but he would not say whether Sorenson will resign, according to a story today by the Grand Junction Sentinel's Charles Ashby.
Sorenson will "take responsibility" for the Post, House told Ashby, who also reported that House said that [Sorenson's] backing of [GOP Senate candidate Darryl] Glenn, who is black, shows that Sorenson isn't a racist, but was being racially insensitive."
House said the situation has prompted a number of changes he plans to institute, not the least of which is to provide training on the difference between racism and being racially insensitive, adding that there is no room in the GOP for either.

He also said the state party will provide training on how to handle social media, including on how to make things private.

"Saying that you were wrong can come from two bases," House said. "One is that you were willfully wrong, and the other is that you were ignorant and wrong. In this particular case it's more ignorance than willful. So when you become racially insensitive, it needs to be used to educate.

"If you label somebody's who's a racist who's not, then all you do is create an environment where you have discontent and more stress," he said. "Republican or Democrat, decades of racism in this country and racial divide and an inability to educate and move ourselves forward is a real problem that we've got to solve. This situation gives us the ability to work with the NAACP and other groups out there and say, 'All right, we're not as racially sensitive about some things as you are, so let's do some education."
In addition to the Chimp meme, Sorenson shared or liked a handful of posts in the same vein last year. See them here.
U.S. Rep. Scott Tipton (R-CO)  told the Colorado Statesman through a spokesperson Friday that racism has "no place" in the GOP. But he did not call for Sorenson's resignation. Neither did GOP U.S. Senate candidate Jack Graham, who also condemned the meme.
Delta County Republicans will hold a public meeting at 7 p.m. tonight at the Surface Creek Community Church in Austin to discuss the issue–and other alleged lapses by Sorenson.