(Promoted by Colorado Pols)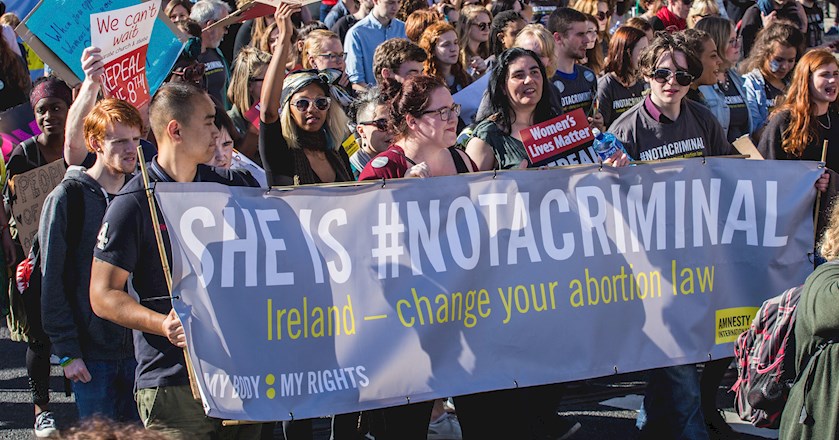 Photo: Amnesty International Ireland
It's that special time each year where we get to partake in shenanigans that subtly appropriate Irish culture while drinking large quantities of green beer, and dressing like a leprechaun —yes, St. Patricks Day is finally upon us. While you're enjoying your weekend of "green" celebrations and paying homage to our friends "across the pond," this is a friendly reminder that women in Ireland have been fighting a grueling battle for reproductive freedom for half a century.
Ireland has some of the strictest abortion laws in the world. It is estimated that roughly 12 women per day will travel out of the country to seek abortion care. Though their reasons for needing to terminate a pregnancy may differ, their reasons for traveling elswhere, do not. The penalty for inducing an abortion in the Republic of Ireland can be up to 14 years in prison. In Northern Ireland, penalties are much more severe, and can result in a life sentence. Abortion is permitted only in the most extreme circumstances to save a woman's life. This provision was only introduced in 2012 after the death of Savita Halappanavar, who was denied a life-saving abortion while suffering a septic miscarriage.
The oppressive abortion laws in Ireland have disproportionate impacts on low income people. The Repeal 8 initiative estimates that in 2016 alone, roughly 3,265 women travelled outside of Ireland to the UK to seek abortion care. Abortion seekers who don't have the time or money to travel for the procedure may choose a DIY abortion, which can have detrimental health consequences if not performed correctly.The anti-abortion laws in Ireland haven't stopped abortion, it's just made abortion more difficult to obtain, and more dangerous. The World Health Organization states the 1 in 4 illegal abortions results in severe health complications.
No person should face a prison sentence for inducing a miscarriage, and no doctor should be prosecuted for providing safe abortion services. Irish women should be trusted to make their own healthcare decisions regarding their pregnancies—this right does not belong to the government. There will be a national referendum on abortion to be held by the end of May which could radically transform the reproductive access in Ireland, if passed.
So if your St. Patrick's Day plans include toting shamrocks, wearing various shades of green, and kissing people "because their Irish"—let it also include a little activism! Use this holiday to spread the message that reproductive rights are far and few between in Ireland. Below are three actions you can take to make a real difference in the lives of people fighting for reproductive freedom in Ireland.
Spread the hashtag #Repealtheeighth on social media and encourage your friends to do the same.
Consider donating to the Abortion Support Network. This organization helps women travel from Northern Ireland to the UK for a safe, legal abortion.
Share your abortion story. De-mystify abortion care by sharing your experience, either named or anonymously. Your voice matters!