(Promoted by Colorado Pols)
Update 1/2/2013: A new chapter in the Magpul story unfolded today when the company announced, in a news release, that it's moving its Colorado operations to Wyoming and Texas.
If reporters manage to talk to Magpul executives about the move, it would be a good time to bring up the unpleasant subject of Sandy Hook, where the shooter used a 30-round Magpul magazine made in Colorado.
Magpul declined to talk to reporters about the Newtown shooting when Connecticut State Police originally reported that a Magpul magazine was used.
And Magpul said nothing after photos were released Dec. 27, as part of a police report, showing the Magpul magazine carried by the shooter. In the photos, you can read "Magpul Industries" and "PMAG 30" on the magazine.
Maybe reporters in Wyoming and Texas will have better luck than journalists here in extracting a comment from Magpul about Sandy Hook and the magazines in these photos: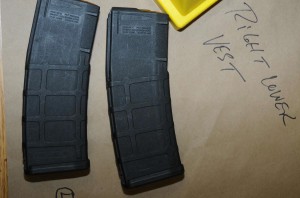 —————————–
Tomorrow is the one-year anniversary of the Newtown, Connecticut massacre, where 20 children were gunned down at Sandy-Hook Elementary School by a shooter using a 30-round bullet holder made in Colorado.
Erie-based Magpul Industries hasn't commented on the fact that the Newtown shooter used its 30-round magazine at Sandy Hook—or on the possibility that the gunman might not have had a 30-round mag at all if a 15-round magazinelimit (opposed vehemently by Magpul) had been in place in Connecticut or nationally.
But Magpul has been anything but silent on gun-safety issues over the past year or so, as Colorado journalists have reported in bits and pieces. Here's a quick look at what we know of the larger Magpul story.
Before it was known that a Magpul magazine was used at Sandy Hook, Magpul lobbied hard against Colorado's proposed legislation to limit magazine capacity to 15 rounds, testifying in the same Feb. 12 and March 4 legislative hearings as Jean Dougherty, sister of the slain Newtown psychologist Mary Sherlach.
Opponents of Colorado's gun-safety legislation embraced Magpul and promoted the company as their ally. During the debate about the magazine bill, Senate Minority Leader Bill Cadman stated that a Magpul magazine had been used by Navy Seals to kill Osama bin Laden. Sen. Greg Brophy offered up his Capitol parking space to a Magpul promotional truck.
After the magazine limit became law, Magpul contributed 20,000 30-round magazines, decorated with a skull & crossbones, to a June 30 fundraising event for recall campaigns targeting State Senators John Morse and Angela Giron.
Of the 20,000 magazines donated by Magpul, 1,500 were given away, and the rest sold at the fundraiser for $10 each, with all proceeds going to an organization called Free Colorado, a newly formed 501c4 nonprofit advocating gun rights, with registered agent Katherine Kennedy who's the agent for many Republican 527 and independent expenditure groups. Free Colorado announced that all funds from the Magpul rally would be spent specifically on the recall efforts of Morse and Giron.
At the event, held in Glendale, gun extremist Dana Loesch arrived in a Magpul helicopter to give away the free magazines and thrill the crowd.
Free Colorado kept its promise, running its own television ad against Morse and Giron. Television-station information reveals that Free Colorado purchased over $100,000 worth of cable and broadcast time for political ads targeting the recalls.
Of course, Magpul threatened to leave Colorado, if the Legislature passed gun-safety legislation, including a 15-round mag limit. The bills became law in March, but Magpul showed no signs of re-locating its manufacturing operations or, apparently, its political activities, though the company told the Boulder Daily Camera in October that the move is still planned.
So the Sandy Hook anniversary is coming up tomorrow, and as I wrote above, nothing has been heard from Magpul about its connection to the shooting. It appears that in March, a Magpul executive made rather crude references to Sandy Hook in online discussion forums, and the company issued a formal statement on its website after the shooting. And Magpul executive Duane Liptak, during a radio interview with Denver's own Mike Rosen, addressed speculation about the possible use of a Magpul magazine at Sandy Hook.
There's a lot for Magpul to reflect on, beyond its gruesome connection to Sandy Hook. I'm hoping a determined journalist has more luck than I've had getting through.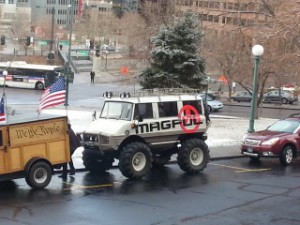 iLQYA