As reported by Latino Rebels, the Texas Republican Party's Executive Committee has at least one member who might be better suited for another organization, perhaps one with a uniform featuring pointed white hoods: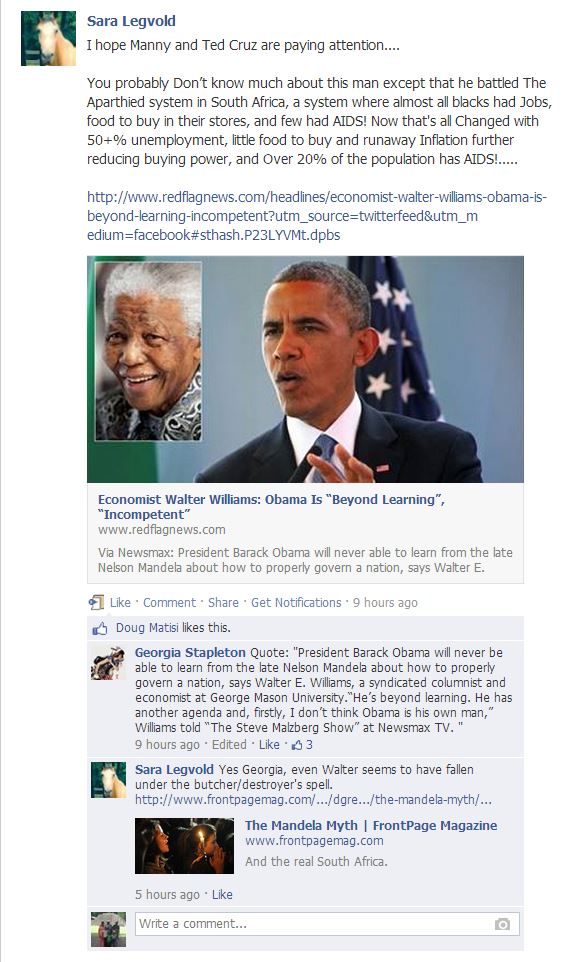 Legvold, a naturalized U.S. citizen of Cuban descent, supported her argument by posting links from StormFront, the pro-racism forum described by the Anti-Defamation league as "a veritable supermarket of online hate." (after the jump)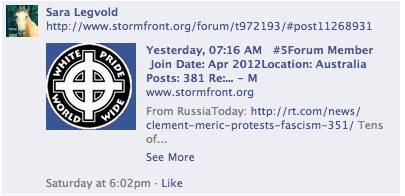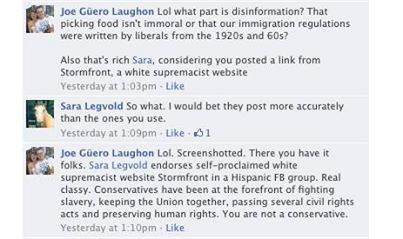 The Republican Party of Texas responded to Latino Rebels with a tepid statement disagreeing with Legvold:
Executive Committee members are entitled to their own opinions that may or may not be aligned with the Republican Party of Texas' official platform. The RPT does not agree with Ms. Legvold's opinions on this matter and we have been very aggressive in our outreach efforts to minority communities over the past year. We recently hired full time African American and Asian American engagement staff, as well as multiple additional Hispanic engagement staff in our Victory Centers across the state.

Spencer Yeldell
Communications Director
Republican Party of Texas
If you hire enough minorities, I suppose it's okay that one of your leaders proudly describes how her "compassion has dried up" for immigrants, even as she lives in the United States thanks to a compassionate immigration policy sheltering Cuban-Americans and providing a pathway to citizenship. Over on Facebook, she's deleted the screengrabbed post or turned it private, but she's still continuously posting anti-Mandela articles!
The compulsive need to assassinate the character and legacy of civil rights leaders, especially as the world mourns them, is nothing new under the sun. This same element in society–those deeply threatened by the thought of a people turning on their oppressors–attacked Malcolm X and Martin Luther King, and didn't even wait 'til her death to turn on the elderly Dolores Huerta. And when someone is really just too saintly to destroy, the same element simly co-opts her legacy, as Ted Nugent did to Rosa Parks. It does, however, add a fresh touch of irony to this old story that, in this case, the attacker is a Cuban immigrant. Puts one in mind of closeted anti-gay crusaders, no?
If Sara Legvold is able to retain her executive committee post after describing South Africa's brutal, torturous apartheid as superior to democracy, Texans will know exactly how much their state GOP's "outreach efforts to minority communities" mean.
(Notes: 1) If being racist isn't enough, Sara is also just plain incorrect. Check out Latino Rebels' original post for a thorough debunking of her made-up claims. 2) This was brought to my attention by a Latino Republican. As that fact illustrates, Sara Legvold does NOT speak for all Republicans. I wish the conservatives who vehemently disagree with her all the best in excising this toxic element from their party.)