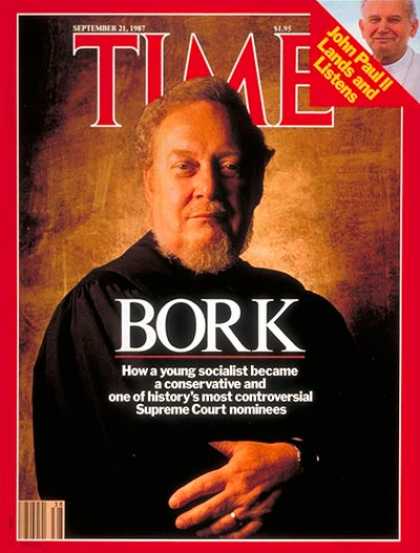 Robert Bork's nomination to the US Supreme Court was rejected by a vote of 58 to 42 in 1987, before I was born. Until today, I'd never heard his name, much less been aware that Time called him "one of history's most controversial Supreme Court nominees.
Today, I stumbled across RomneyCourt.com and saw the frightening claim that Romney would receive help picking Supreme Court justices from a judge who "ruled that a corporation is free to tell women to be sterilized or be fired."
"That's obviously an exaggeration," said I, wisely, and rode forth to The Google. To The Google I did submit the query: Robert Bork sterilization women employees. The Google intoned:
In 1978, the plant instituted a "fetal protection policy" which barred all unsterilized women between the ages of sixteen and fifty from working with twenty-eight of the twenty-nine chemicals used at the plant; the chemical with which women were allowed to work was lead, and eventually the company offered women workers in that division the option of sterilization if they wanted to keep their jobs. Five women had the surgery done in Parkersburg.

….

The union's case ended up before federal judge Robert Bork, who, in 1984, found in favor of the company. Bork ruled the fetal protection policy wasn't hazardous because the women had the option of surgical sterilization. The civil rights case was dropped after 3 1/2 years of pre-trial proceedings. In 1983, the women accepted a settlement from the company.
I asked The Google, "Really?" and The Google, in its infinite wisdom, did highlight the reliability of the source, with its prized .edu domain. Defeated, I faced the truth: It wasn't a left-wing talking point. A chairman of Romney's Justice Advisory Committee really does think it's okay for corporations to tell women to be sterilized or be fired.
Your uterus: Now your employer's property, unless you'd rather be unemployed and exist as a "welfare queen," in the parlance of Reagan, who nominated Bork to the Supreme Court.
And it doesn't end there.
From the New York Times, circa 1987:
In 1963 and 1964, as a 36-year-old law professor, Mr. Bork wrote impassioned attacks on legislation to desegregate lunch counters and other public accommodations. He argued that the bill, by invading the liberty of proprietors to turn away blacks, was based on "a principle of unsurpassed ugliness." Not until 1973, when seeking Senate confirmation as Solicitor General, did he publicly renounce this view, stated with such unsurpassed surliness.

….

Not until two weeks ago did Judge Bork accept the Supreme Court's gradual, belated extension of equal protection to women. As recently as June 10, just before his nomination, he told an interviewer that he thought the 14th Amendment, which covers all persons, "should have been kept to things like race and ethnicity" and not extended to women. Judge Bork's conversion on a subject of such importance came so late that it's hard to know how seriously to take it.

After the initial shock wore off, a realization came over me: I was born right when America started assuming by default that women have rights. Had Bork been nominated a decade earlier, even the Times might not have objected so much to his views on women. In fact, it wasn't until after my birth that the Court righted Bork's wrong–and after five women became permanently unable to themselves give birth as a result of Bork's decision:
The 1991 U.S. Supreme Court ruling that declared fetal protection policies to be a violation of CIVIL RIGHTS laws came too late for five women from West Virginia who were forced by their employer to choose between undergoing a sterilization procedure to avoid health risks associated with their higher paying jobs, remaining fertile but moving to lower paying jobs, or quitting their jobs altogether (International Union, UAW v. Johnson Controls, Inc., 499 U.S. 187, 111 S. Ct. 1196, 113 L. Ed. 2d 158 [1991]). The women worked at an American Cyanamid factory in Willow Island, a poor region where decent-paying jobs were scarce. They were all among the first women to work in these factories, which, before 1974, had employed only men.

We may not be equal today. We may be fighting yet another personhood amendment–one which would likely bring "fetal protection policies" back to conservative workplaces, since without abortion or even many common methods of birth control, only sterilization could prevent a woman from unknowingly harming a "person" inside her body–but we are more equal than we were. Wage gap (and "yes, Virginia, there is a gender wage gap") aside, we can generally work in the fields we prefer. The glass ceiling is thinner than it was. 40% of the CEOs I've worked under in my lifetime have been women. It is generally assumed that women have rights.
And this is, pardon my French, a recent fucking development.
And Mitt Romney isn't on board with it. Neither is the guy who'd be picking his justices.
I've known for a long time that we can't take reproductive rights for granted; even if I hadn't, the last year's worth of legislation would prove it beyond a shadow of a doubt. But I think this is the first time it's really hit me that we can't even take being considered persons (unlike fetuses, of course!) for granted.
I'm reading a mystery series currently, one which was written over a period of more than 30 years, following its main character from the 1950s to 1980s. In the first few books, women's rights aren't addressed; wives keep house and cook with no complaint. In the 1960s, they begin to agitate for "women's lib," but the author carefully constructs scenes in which the "women's libbers" express irrational, hysterical anger and are shut down by coolly logical men. By the 1970s the main character begins to become sympathetic, even calling women "Ms." instead of "miss" or "Mrs.", but continues to mock the idea that the special privileges of women (like their absence from dangerous industries) are in any way sexist, believing instead that these special favors are offered by men to compensate women for their misfortune in being born female in a society where the lives of men are generally easier. It's not until the last few books that the detective really comes around and begins treating women like he treats men. He includes them in intellectual conversations, and at one point is employed by one. (Granted, she turns out to be a murderess, but you can't have everything.)
I'm enjoying the books, but complained peevishly to a friend, "He sure doesn't seem to like women much!" then amended it to, "Well, he has yet to include a female character who has any interests aside from her husband and children." My friend–substantially older than myself–pointed out with a chuckle that the author is recording an era in which women were not expected to have interests apart from their husbands and children.
What a dull, miserable life that would be. Who would I be if I hadn't started a job I loved when I was 19, barely out of high school? Who would I be if I hadn't grown up fearlessly scolding Governors and Congressmen for the standardized testing that annoyed me in elementary school? What in the world would I do with myself all day, staring at four walls and occasionally scrubbing them, if my parents hadn't expected me to get an education?
This year, I'm as old as my mother was when I was born.
She is a member of the first generation to benefit from women's lib. She went to college and started a business. Yet, for her, those rights were new. If she'd worked for anyone other than herself, she would have encountered glass ceilings. When my mother heard her mother-in-law recount the discrimination that venerable lady faced as a woman attending college even though she had children to think of (gasp!), that was less a galling historical anecdote than something she nervously hoped she wouldn't face after giving birth to me.
I am a member of the first generation never to wonder if we're really as good as men. I am a member of the first generation to grow up expecting to fulfill our educational and career aspirations with no significant interference based on gender. That's not to say I haven't run into sexism or suffered as a result of it–I have–but it's never thrown me off track in pursuing my ambitions, nor have I ever been seriously worried that it would. Misogyny is a nuisance, not a real factor in my everyday life.
Mitt Romney and Robert Bork could, quite feasibly, not just turn the clock back to my mother's world, but turn it back to the world of my grandmother, where a woman in college is expected to pursue her Mrs., not her PhD. Where a woman's interests ought to be limited to husband and children, but a little job on the side to keep her busy is all right, if her husband approves and it doesn't endanger any fetuses or any hypothetical future fetuses.
This isn't an exaggeration. It's a real threat, and one that was only recently beaten back. For most of my life, it's been socially unacceptable to suggest that women are perpetually pre-pregnant incubator units. Suddenly, the ghosts of sexism past have risen, and they're running for President–freely, with very little interference from the same public that so vehemently rejected Bork in 1987.
People older than me: What the hell is going on? Where did our progress go? Has my entire lifetime been a brief period of female freedom and prosperity that is about to end?
People my age: If you need convincing that it's time to wake up, I've got a mystery series to lend you. Let's get the fuck out on the streets and make Robert Bork a household name again, before Mitt Romney does that for us by nominating one of Bork's suggested justices to the court that will, in the next few years, be revisiting the question of whether or not slightly more than 50% of us are allowed to live as free, equal human beings.