(Promoted by Colorado Pols)
As usual, I heard many car horns honking as I pulled up to the intersection of Alameda and Wadsworth last Saturday, October 17, 2020. But it wasn't an accident,  sports fans, or a wedding parade – it was the usual coterie of local Lakewood activists that have been demonstrating at various intersections each week since last spring.  I tapped out a quick "Shave and a haircut" on the horn and hurried to park and join about 70 of  my friends and comrades in peaceful protest.
Since spring of 2020, Lakewood Justice, Equity, Diversity and Inclusion (JEDI) has been organizing "pop-up" protests during rush hour at  high-traffic intersections in Lakewood. The group's founders, Christopher Arlen,  Zenat Shariff Belkin, and others  had felt compelled to do something when George Floyd was publicly murdered by police last May, and cities were convulsed with protests and brutal reaction. They wondered if people would come out for quick one hour protests to create a visible nonviolent presence in Lakewood. They recruited their friends,  neighbors, families, church members, and Democratic colleagues to stand during rush hours on Tuesdays for 16 weeks. For months, "Black Lives Matter" was the focus of the signs and of the one hour  vigils. Protesters generally avoided partisan messages, focusing on the issues of racism and violence in policing.
But in October, with the election underway, and a Republican court-packing maneuver in progress, many of the protesters were the same, but the subjects of the signs were different. Signs praising the late Justice Ruth Bader Ginsberg, signs affirming women's right to abortion and reproductive freedom, a Trump puppet figure, and plenty of American flags and Biden / Harris 2020 signs were on view from 2-3 pm. Brenda Bronson organized the Lakewood action as one of hundreds around the nation in solidarity with the Washington Women's March 2020.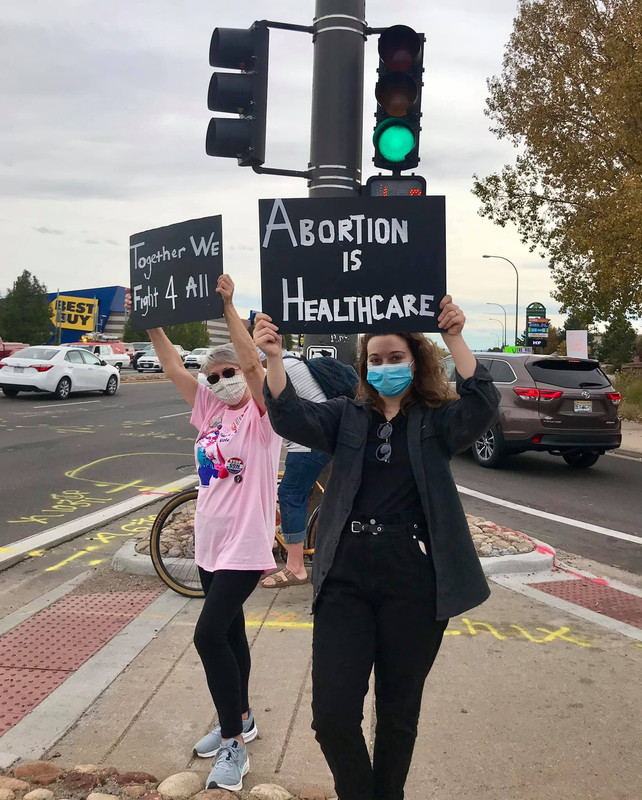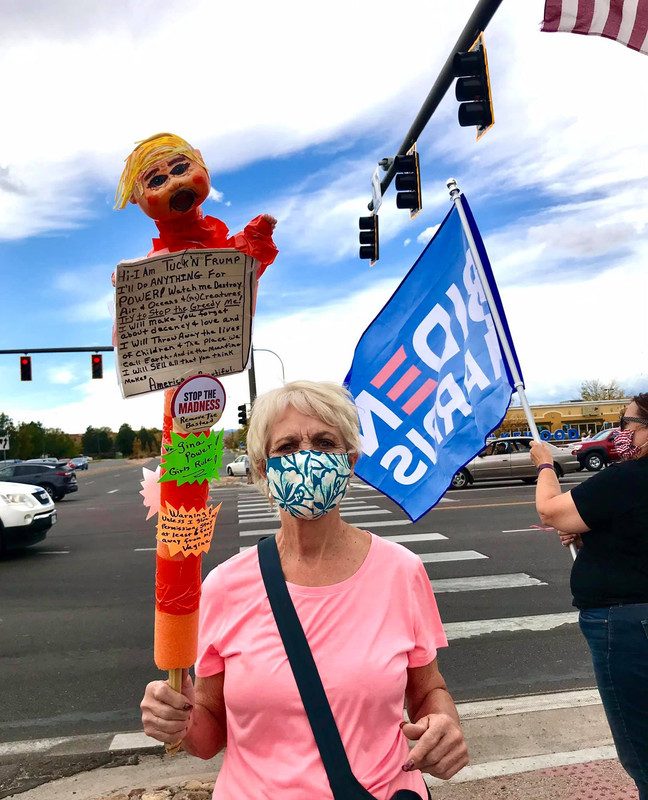 The decision to feature American flags was a conscious one – the right wing cannot be permitted to have exclusive claim on the ideals (freedom of expression, democracy,  equality and justice) that the flag represents. Attendees at the Lakewood pop up protests have been flying big flags and little ones – subtly proclaiming that protest is as American as the flag and apple pie. We'll share….but we're taking the flag back.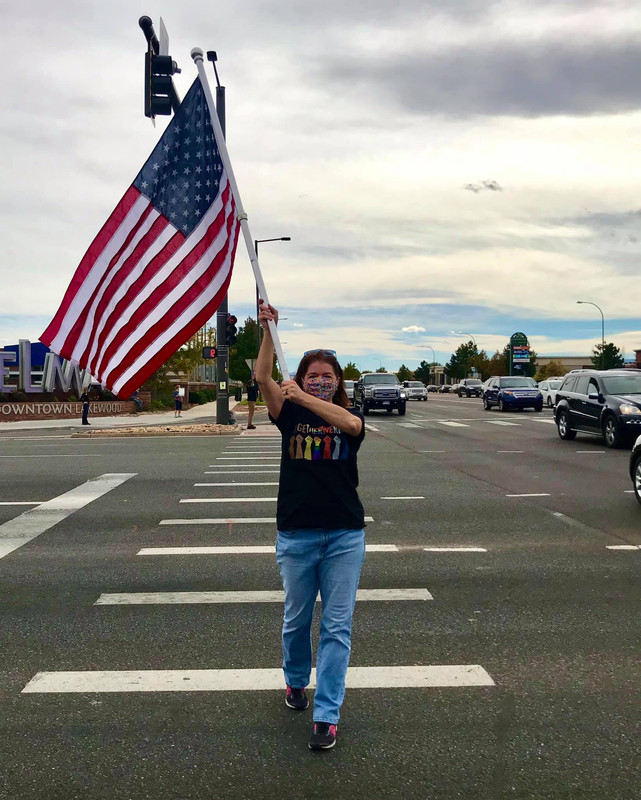 Response from passing drivers and pedestrians has been overwhelmingly positive – most honk in support, pump their fists, smile, make peace signs, etc. One in a hundred will yell an obscenity or show disagreement – occasionally "rolling coal" to surround a protester in a cloud of smoke, or vague threats about abortion rights  meaning "someone will kill us next", or screaming "Black Lives Matter is a terrorist group".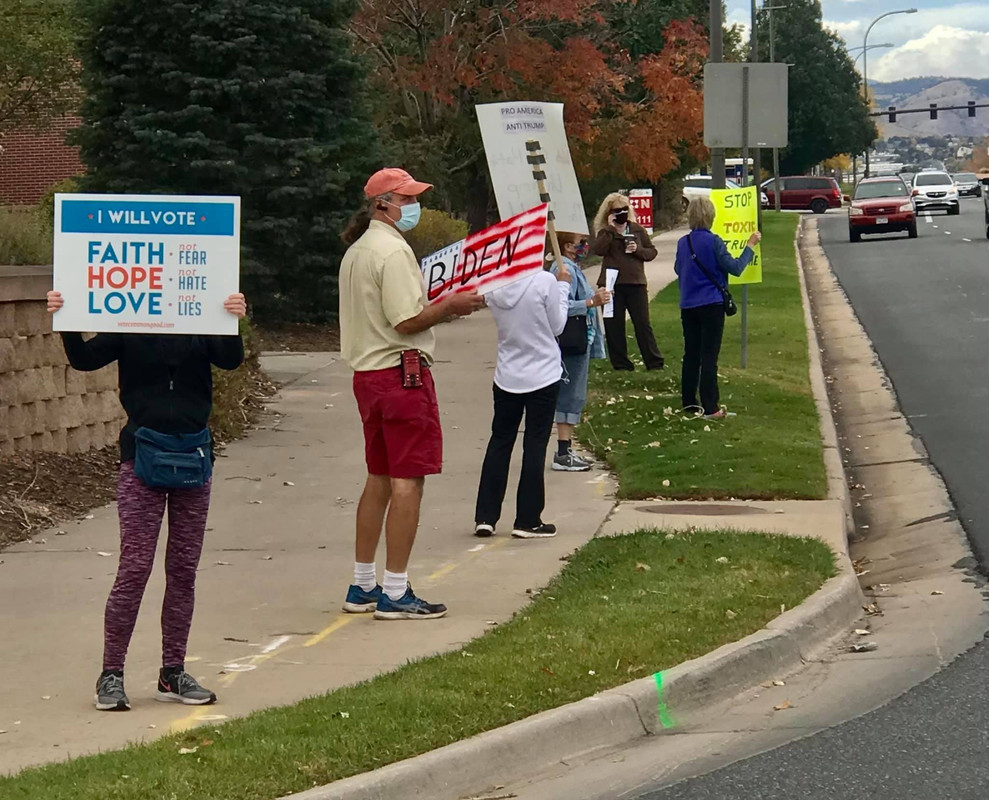 Trump's "suburban women" and men are showing up in Lakewood – and their message is strong, clear, positive, and anti- Trumpism. Democracy is a participatory sport.
(all photographs courtesy of Brenda Bronson)