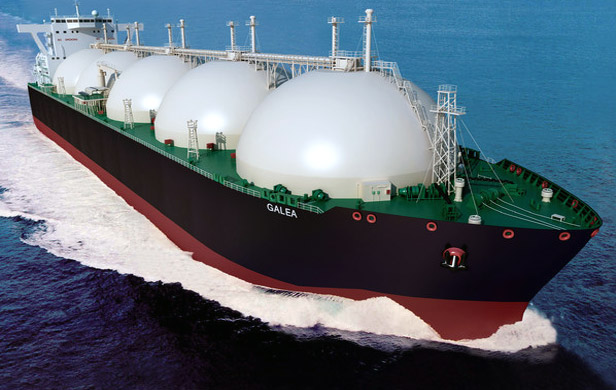 As the Denver Business Journal's Greg Avery reports, Gov. Jared Polis is pulling the state of Colorado out of a partnership initiated by former Gov. John Hickenlooper to actively pursue the export of natural gas from the Western United States to Asian export markets via an as-yet unbuilt liquefied natural gas terminal at Jordan Cove, Oregon:
With the shift to a new governor this year, the state has changed its stance after previously partnering with Utah, northwest Colorado governments and others in advocating for developing the infrastructure and export terminals to ship the region's abundant natural gas to overseas, especially to Asia.

"We are no longer actively involved in this energy project," said Will Toor, executive director of the Colorado Energy Office, which oversees energy policy and advocacy of the state government. "The administration's stance is one of neutrality on exports."

…Former Colorado Gov. John Hickenlooper in 2017 supported the effort, and advocated for issuing a federal permit for a liquid natural gas export terminal project, known as Jordan Cove, proposed on the Oregon Coast, that could connect to pipelines carrying natural gas west from Colorado, Utah and Wyoming and fill ocean-going tankers.
To be clear, Gov. Polis isn't announcing that the state is opposed to the Jordan Cove scheme–in fact he says that if the plan moves forward, the state will still work with the companies involved. The state of Oregon has blocked permits needed for the project to move ahead, though the fight is by no means over. But given Colorado's policy embrace under the new governor of a 100% renewable energy powered future, actively promoting the state's fossil fuel reserves for export abroad simply doesn't make sense anymore.
For self-interested residents of Colorado, the question of whether to support the Jordan Cove LNG terminal and the final pipelines to connect Colorado's gas supply to the West Coast for export to Asia is simpler than it appears. As we've noted with the Keystone XL pipeline and other projects to facilitate energy exports, there is simply no economic benefit for local retail energy consumers–who will pay substantially higher prices for the same natural gas once it becomes an exportable commodity. Demand for exported natural gas also means the pace of drilling expansion is no longer a function of local market needs, meaning Colorado suffers all the harm from increased drilling just so Asia can delay their own necessary fossil fuel reckoning another few years.
With so many downsides to a project to benefit a single industry that consistently overstates its importance to the state's overall economy, especially when factors like the harm to tourism and other land uses from energy exploitation are considered, Jordan Cove is a project whose perceived usefulness to either Colorado or the global economy is the product of dated thinking. The pressing challenge of climate change and the ambitious goals Colorado has set to do our part to reduce the impact of climate change mean that leaning on natural gas as a "bridge" to a renewable energy future is a luxury the world can no longer afford.
Colorado's new governor gets this, and policy is catching up accordingly.