Colorado Pols Update: It's Sarah Palin, the Governor of Alaska who looks like Tina Fey with bad hair. THIS is the person who voters can expect to be President should anything happen to the 72-year-old McCain? Really??? Looks like Barack Obama just got a double bump.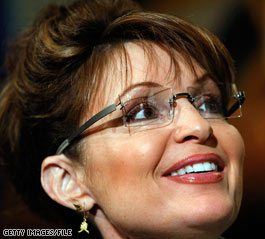 ,
from MSNBC
Two of the leading candidates to be John McCain's vice presidential pick – Minnesota Gov. Tim Pawlenty and former Massachusetts Gov. Mitt Romney – appear to be out of the running, NBC News reported Friday.
And it looks like it will be Gov. Sarah Palin
A Gulfstream IV from Anchorage, Alaska, flew into Middletown Regional Airport in Butler County near Cincinnati about 10:15 p.m. Thursday, said Rich Bevis, the airport's manager. He said several people came off the plane, including a woman and two teens, but there was no confirmation of who was aboard.
Loading ...