(Promoted by Colorado Pols)
Let's talk threats, but first let's back up. Let's talk about what's not on the ballot this November: A statewide fracking ban. It seems that whatever polling there is, it must show that reasonable Coloradans support local control–We understand the fairness of trusting the directly affected neighborhoods and towns, and elected officials. Most of the proposed measures extend the same type of authority they have with other development in their midst, around their schools, next to their homes, above their neighborhoods, in their drinking water supplies. Egads! What to do?
Anti Local-Control Spin: Sunshine, Lollipops or TEOTWAWKI (aka "Statewide Fracking Ban")
For clarity on that question, we can look to the recent op-ed in the Chieftain, the yellow rag out of Pueblo. In it two board members of Vital for Colorado (one of the anti-local control group that has the Denver Metro Chamber director among its leadership). From that source, it appears, the answer is to prevaricate, also known as lying, bearing false witness, and a host of other terms.
Of course there are always clever ways to kinda-sorta get around all that—the wonders of language artfully deployed! Thus we are told not that a fracking ban is looming, but the 'threat of a statewide fracking ban' might be!
​
And such a threat of this thing that would be bad if it were real, is juxtaposed against a life of wonder and prosperity from the gentle beneficent activity known as "hydraulic fracturing" or more commonly (and somewhat rudely) as "fracking".
For the sunshine and lollypop part of the fracking story we can also turn to bipartisan bygone pols, and yet another op-ed, this one cosigned by former Governors Roy Romer and Bill Owens:
Fracking isn't a political belief; it's a technology. In Colorado, it's used to open tiny fractures in deep shale formations, which are trapped below a mile or more of solid rock. Fracking lasts just a few days and takes place after a well has been drilled, reinforced with multiple steel and cement barriers, and tested to ensure the water table near the surface is protected. Water, sand and a tiny percentage of chemical additives are injected thousands of feet down the well until there's enough pressure to crack the shale and access the oil and gas trapped inside. Without those cracks, the oil and gas cannot flow into the well.

Fracking was pioneered in the 1940s and has been closely studied, tightly regulated and constantly improved by experts inside and outside the industry. It's been safely used more than a million times across the nation.
None of that presents a realistic impression of what fracking is, nor any historical context behind it. Horizontal, multistage fracking to get at tight gas and shale oil was not pioneered in the 1940s, nor are well casings always sound, that 'tiny percentage' of 'chemical additives' represent hundreds of thousands of gallons of substances, along with radioactive and toxic elements in the 'produced water,' some that can have toxicity measured in parts per billion.
Fracking, as its being practiced in the Niobrara and similar geologies is closer to 15 years old—with a lot of development of that technology happening right here in western Colorado, a good deal of it when Mr. Owens was governor. So both men likely understand these facts, but it does not sound as reassuring as bullshit happy talk.
Because when it comes to the other side of the story, the dark side—as it were—to all the happy talk, that's a subject the industry finds objectionable, so be prepared for a growing pile of spin, this latest dump with the names of a couple ex-governors attached.
Or Maybe Its Local Control vs. a Toxic Future?
So what happens if one brings up real threats, the ones truly inherent in oil and gas development?
It seems we are told one of two things: That no one can conclusively link neonatal and infant deaths, tumors, poisoned water, ozone spikes and all the other phenomena that increasingly cluster around oil and gas development, to oil and gas development.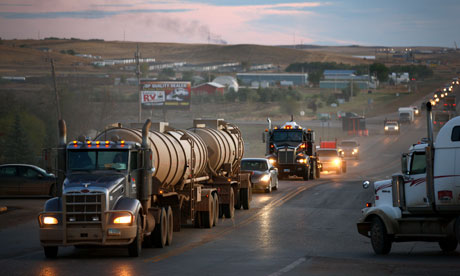 Anyone that even suggests there might be more than just a casual—but a causal—correlation must want humanity to live in a cave. And/Or we are told to: > > > LOOK OVER THERE > > > JOBS!
Indeed, according to Vital for Colorado and its various siblings, manifestations, clones and shadows, the choice is stark and frightening: massive manna-from-fracking or a hundred thousand jobs evaporated.
IOW, which is it Colorado: Do you side with the 'threat of a fracking ban' or are you among the reasonable ones that favor the nothing-but-sunshine promise of prosperity?
Of course this very set up is a lie, and it's hard to see it any other way. Whatever one calls it, it is dishonest at its core. People spreading it ought to know better and be ashamed of themselves. And if those considering how to best confound Coloradans before exercising their right at the ballot, would instead set out to frame the matter fairly, they might consider real threat vs real threat. And if one were really to put apples to apples—then the discussion might instead look more like the following:
On the one hand is the threat of some unknown number of local jurisdictions enacting a variety of unknown locally oriented regulations, from setbacks and oil and gas specific traffic planning, to bans on certain activities—like fracking. This would cost some additional unknown amount of money in some unknown places for the world's richest industry, true.
But it's hard to say by how much. And how it would impact the 2% of job income in the state that comes from oil and gas, or even the somewhat larger amount that comes from activity tied to that; is much less knowable—almost Rumsfeldian, the unknown unknowns. But obviously local control would not chase activity out of the state, like the imagineerings of frackademia might portray.
Then contrast that with what may come to pass without local control, in those same unknown local jurisdictions, the threat mind you, the possibility. The threat inherent from acknowledging, here and now, that significant and increasing problems come with converting residential or other inappropriate places into what are—in all reality—industrial zones.
Slippery Oilie-Spin: A Lie is a Lie is a Lie – It May Not Work This Time
Let's assess the threat found in that other side of getting fracked: It's a dirty business. It's industrial, with real and detrimental impacts on people and other resources nearby.
There are still confounding issues like induced seismicity (aka frackquakes) and 'frackhits'—where a new frack blows out an older or other adjacent well, often blasting a toxic spew.
There are flowback failures and fiery explosions that rage for days; leaky or ruptured pipelines that spill toxic carcinogens into waterways or flood neighborhoods in crud(e).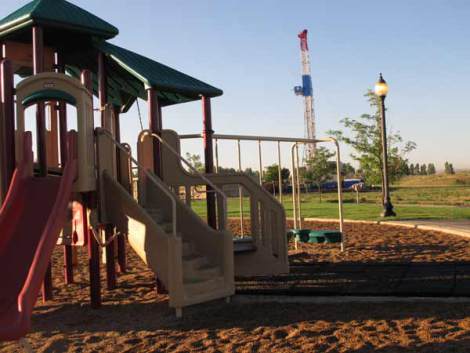 Those certainly are the more spectacular (but not invented) failures and fraccidents, so let's not forget the 'routine' spill and release, the ones that happen at least daily, somewhere, in Colorado, at least by the State's on-the-book count.
Although it has made it into the dictionary, a term industry has come to loathe: 'fracking' is not the whole of it: spills do not just happen then, or only during drilling and completion, cement eventually leaks, and spills and toxic releases happen over the life of the well, affecting both surface and ground water.
And even though industry and our regulators rote-repeat that all is OK when fracking a mile or three underground, not all the experts are convinced that there is no risk—and even evidence of—groundwater communication from the frack below. Finally, we cannot forget the mundane risks closely associated with this industrial activity: increased traffic deaths, increased crime in the towns over-run with 'man camps' from drugs, prostitution and theft to assault and murder; the sudden transformation of a rural or residential life and landscape for a short term high; the dust, the grime; the diminished quality of life and the loss of property value.
So, yeah, local communities have real concerns about threats that demonstrably exist in the oil and gas patch. And faced with acknowledging the legitimacy of allowing Coloradans and communities directly and daily impacted by this industrial and dangerous activity the ability to make decisions, informed by what are shown to be real threats, then perhaps lying does seem the better choice.
"How Best to Fool Coloradans," it would not shock to find this the title of a memo in certain PR shops and boardrooms:
Last year, [drilling company created pro-fracking group] CRED spent big money on local television ads, according to FCC filings. This year, the group is paying for an advertising supplement section in The Denver Post called "Energy and Environment" that mimics the appearance of objective news. The section includes articles with headlines such as "Statewide fracking ban could hobble local economies" and "If you watch baseball, you support oil and natural gas."
And yet all this well-financed blitz of Texas-sized bullshit cannot stave off the industry's basic fear, that people may very well demand the reins of their democracy back—and that would be bad for business. As the Denver Business Journal described the sentiment of yet another anti-local control group–This one with former U.S. Interior Secretary Ken Salazar, former Denver Mayor Wellington Webb, and (again) the Denver Metro Chamber director, on its Board:
But they expect to have an uphill climb convincing the public to oppose the efforts, as fracking bans and local-control initiatives have proven popular by passing in five different Colorado cities so far.
An 'uphill climb' in part because we are still not yet done running down threats that come to citizens lucky enough to have tight gas or shale oil beneath their homes, yards and school athletic fields. Besides the catastrophes and the day-to-day spills and mishaps, the nuisance, the traffic and hassel, and the fracking deep below–increasingly we learn that the very process itself, even when everything goes right; is toxic and polluting. Copious releases of methane, concentrations of VOCs, the increasing signs of real, significant, and devastating health impacts that cluster around this activity.
Thus to provide a recap, on one side organizations pitching a fictitious 'threat' of a 'statewide fracking ban,' and on the other increasing amounts of real evidence of harm. So OK then, let's talk threats.
And we'll see you in November.