(Promoted by Colorado Pols)
"Members, this is a war on rural Colorado. This product on the Uravan mineral belt is their only option for jobs. With this bill, that option is lost." Rep. Don Coram on SB 14-192
What Colorado State Representative Don Coram calls a "War on Rural Colorado" others might call the "holding environmental scofflaws accountable" or "making polluters clean up their mess before we trust them to not make another" act.
And surprisingly enough (if apparent conflict-of-interest is surprising among good-old-boy politicians) Rep. Don Coram fought legislation that could force himself to comply with cleaning up a toxic mess for which he himself is responsible.
As passed the Senate Bill 192 requires radioactive contamination to groundwater wells be cleaned up to levels that meet the standards of the Water Quality Control Commission for the well's historic use. But as originally proposed the bill would have placed stricter controls over all the 32 uranium mines that are still operational in Colorado, and on any new operations that apply for licenses.
As the Durango Herald noted in an editorial blasting Rep. Coram:
State Rep. Don Coram, R-Montrose, was on the wrong side of history Monday on several fronts. In opposing Senate Bill 192, he took on the role of a lobbyist, argued against a popular and prudent environmental protection and, at the same time, played off of the unrealistic hopes of economically challenged towns. It was not his finest hour.

SB 192 is a bill meant to address the kind of environmental disaster experienced by Cañon City when the Cotter uranium mill poisoned a neighborhood's groundwater. It sets minimum standards for groundwater cleanup before a company can be absolved of further responsibility. It also mandates that uranium and thorium mines be licensed by the state health department if they use a process that involves injecting water into rock formations.
Remediation for 'Collateral damage' might as well be another name of the Department of Energy's 'Legacy Management' program. The 'legacy' is the mess of toxic waste that will remain deadly for thousands of years. Colorado's toxic legacy has already cost the American taxpayer billions—and led to the removal of an entire town, a trail of cancer casualties, and the ruin of lives from the busts that inevitably, almost inexorably, follow booms in company towns built to be solely reliant on single, highly volatile extractive industry.
For every Charlie Steen that made a fortune, hundreds or thousands of others saw their lives upturned, poisoned, or were consigned to die slow deaths. This is the story of uranium on the Colorado Plateau and it is not a happy, nor healthy, tale. Measured in millirems, sequestered in disposal cells, looming ominously in piles along canyon walls and river banks; the promise of the 'atomic age' has in many cases turned but to be little more than 'over burden' stripped away to power profit exported to a few, with the towns and lives of many, many more that once thrived heaped up like spent tailings left to blow away in a poisonous dust.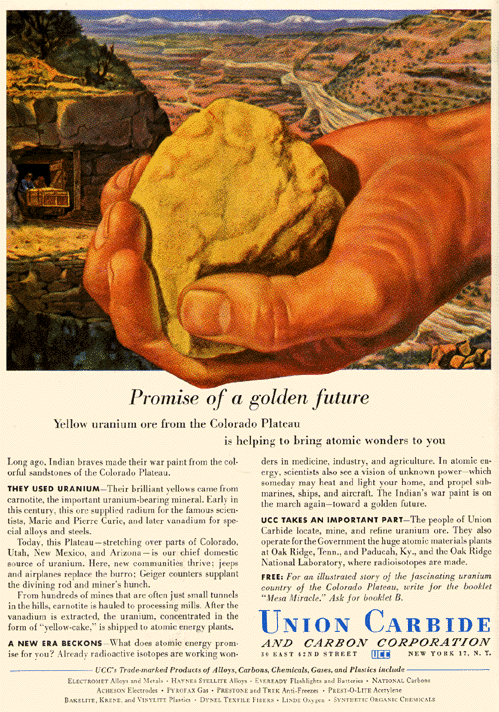 In the heart of Canyon Country, not far from where thousands of Spring Breakers descend to visit Delicate Arch or Dead Horse Point, just this side of the Sierra La Sal is a lonely stretch of road that truly winds through God's Country. Colorado's Highway 141 crosses the Rio Dolores at Gateway, then turns south to follow the 'River of Sorrow' toward Paradox, Nucla and Naturita. Thousand foot cliffs of Wingate, streaked with desert varnish, loom on either side of the river and road, where old crumbling two tracks reach up into the heights or wind down into the flood plains, ending at adits and mine workings and abandoned, dusty dreams.
When the US Department of Energy announced its intent to reissue uranium mining leases during the presidency of GW Bush, many Coloradans thought it ought to first—before even considering such a move—make sure those responsible, either directly or through acquisition, clean up their mess from the brief boom that preceded this last decades-long 'bust.' Before opening (or reopening) new mines.
The DOE ignored these requests, and preceded to lease 31 mining tracts. When the issue made it before the court, the DOE leases were enjoined, and the judge found that the federal government had acted 'arbitrarily and capriciously' in approving new leases before its previous business was complete (requiring appropriate remediation).
Until the U.S. DOE approved plans to address the toxic mess and poisoned lands and water from the last uranium mining spree and could show that work complete, and until lessees prepared environmental protection plans, the court found, it could not move ahead with permitting activity on new leases.
And so we get back to Rep. Don Coram and his personal 'war' on western Colorado's efforts to move past the failed uranium economy of the 1950s. Coram literally bought into the failed uranium industry in 1998, and he is now responsible for cleaning up mines that he has never put into production. Rep. Coram owns uranium mines, four for which under the court's ruling and per existing state law his company must bring into compliance.
"I do environmental remediation." Uranium Mine Owner and State Rep. Don Coram
Rep. Coram's uranium mines are currently at risk of being out of compliance for failure to remediate the toxic mess left behind. Rep. Coram has claimed he is no longer in the mining business but the 'remediation' business. But it's not clear he is. Rep. Coram is having difficulty following the court order and current state law, and is a few weeks shy of being in blatant violation. Rep. Coram's company Gold Eagle Mining Company, Inc. (GEMI) has until May 31, 2014 to have all its remediation done on these four mines. But so far it remains unclear if Coram's mining company is meeting its obligation to the American people.
And now the state Department of Natural Resources Division of Reclamation and Mining Safety is worried that nothing is being done:
"The Division is concerned that GEMI will be unable to complete reclamation of the four mines…"
The legislation that Rep. Coram tried to block, the Uranium Groundwater Protection Act, would have raised the stakes further, bringing state law more in compliance with what the federal court is demanding—required compliance with remediation for polluted, radioactive groundwater before permits for new, experimental activity can be considered. Unfortunately some of those protections were stripped and weakened. And when Coram was unable to strip provisions that would cost him from the bill in the State House, he found a Senator to do his dirty work for him, and was abetted by faux-moderate Republican Sen. Ellen Roberts of Durango.
"The legislation would have clarified that licensing is required before the industry deploys experimental uranium recovery techniques with potentially grave impacts on our groundwater. Regardless of this setback, we will rely on a committed community and look for other mechanisms to protect our groundwater."
It is disappointing that a conflicted Colorado legislator with such a personal stake in a bill would actively work against legislation that helps Coloradans and benefits himself, but that is what he did with an assist from Roberts. And while some protections for Cañon City residents affected by contaminated water were approved in the final legislation, in the end the conflicted Rep. also successfully beat back provisions that would have required cleanup for other uranium mining operations–like his own. And as the Herald argues, that is a shameful legacy to hang one's hat upon:
Coram told his fellow lawmakers, "You can kill their opportunity. You can spoil their dreams." But the real history of uranium mining in the West is that more than anything, it killed not dreams or opportunity, but miners.